Retaining walls are an invaluable tool for a landscape designer and homeowners alike. Walls add form, function and create distinct layers to the landscape. Whether we are creating a more functional space or building a multi-level outdoor living area, the right type of retainage is crucial for long term success.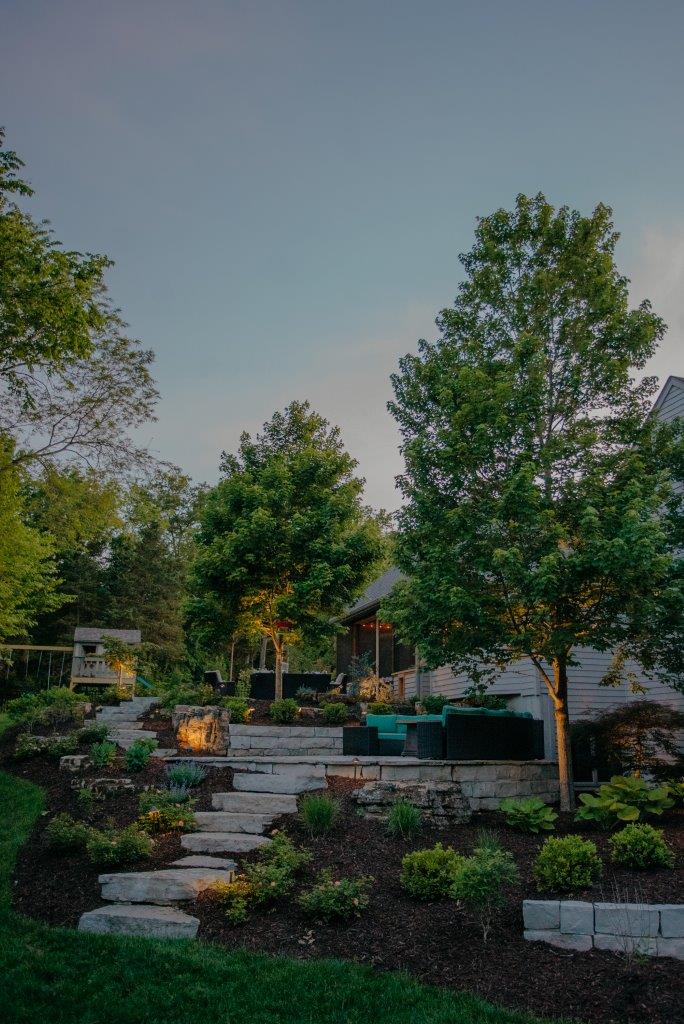 Building retaining walls to last for many years requires choosing the right materials and a reputable installer. The majority of retaining wall failures stem from improper installation and a lack of maintenance. Water builds up in the soil behind the wall and the resulting hydrostatic pressure causes a bulge that can easily topple large sections of your structure. Missouri's heavy clay soils experience extreme shrink/swell cycles as their moisture levels fluctuate. To combat this, walls over a couple blocks tall should have perforated drains behind the base of the wall, geotextile grid, and adequate clean gravel backfill wrapped in filter fabric. It's common to see contractors err and exclude the filter fabric. No matter how much gravel is placed behind the wall, without filter fabric, fine sediments from the soil will leech into the gravel and clog water's path to the French drain at the bottom.
Sloped sites can actually be advantageous as it creates more interest to draw the eye than a flat lot. Walls and boulders can create intriguing design elements that turn site defects into assets. Tiers will draw the eye and create purposeful "rooms" in the landscape that offer new elements to the experience of your outdoor living space. As designers, we use walls and boulders to create room for other design elements such as patios, fire features, pergolas, and recreation areas. By designing in retainage with dual purpose we can create seat walls around fire pits, contrast the color and texture of our plantings, or give prefab features such as hot tubs a more custom look.
There's a huge variety of quality materials that we utilize in our retaining wall projects. Concrete block walls are our most common form of retainage. They can provide a relatively budget friendly option in a wide variety of styles. When properly engineered, block walls are appropriate for walls 2-50+' tall.
Poured concrete walls veneered with stone are a high-end product with infinite customizations available. Veneered walls can include more intricate masonry work, be built to match other vertical structures (stone on the home, outdoor kitchens, etc.), and are highly functional.
Other great alternatives to traditional block wall retainage are boulders and ledge rock. There's a spectrum of natural and large cut stone that can form walls, rocky outcrops, and vertical interest. Boulders naturalize the site, prevent erosion, and can take the place of small to medium size retaining walls in a cost-effective manner.
All of the materials in our tool kit can be combined or used independently to create effective and aesthetically pleasing retainage. Each project is unique so don't hesitate to contact a designer to determine which retainage solution is best for you.