*Also featured on missourilife.com
If you have thousands of dollars invested into your outdoor living space, it's important to have a maintenance plan in mind. The life expectancy of a landscape changes drastically based on how it is maintained. With poor maintenance, the life expectancy is less than 5 years; if well taken care of, landscapes will last 15-20 years or more. And unfortunately, there is no such thing as a maintenance-free landscape, even the low-maintenance ones require a little work, but the result makes it all worthwhile aesthetically.
It is important to develop a proper maintenance routine to achieve full aesthetic potential out of your landscaping. If done wrong you can reduce blooms, or even burn the leaves on your plants. All of this is dependent on the time of year and plant variety which can make maintaining landscapes a bit complex. Whether you choose to hire a professional to maintain all aspects, partial components, or you choose to do it yourself, there are 3 main areas to consider in your landscape maintenance plan.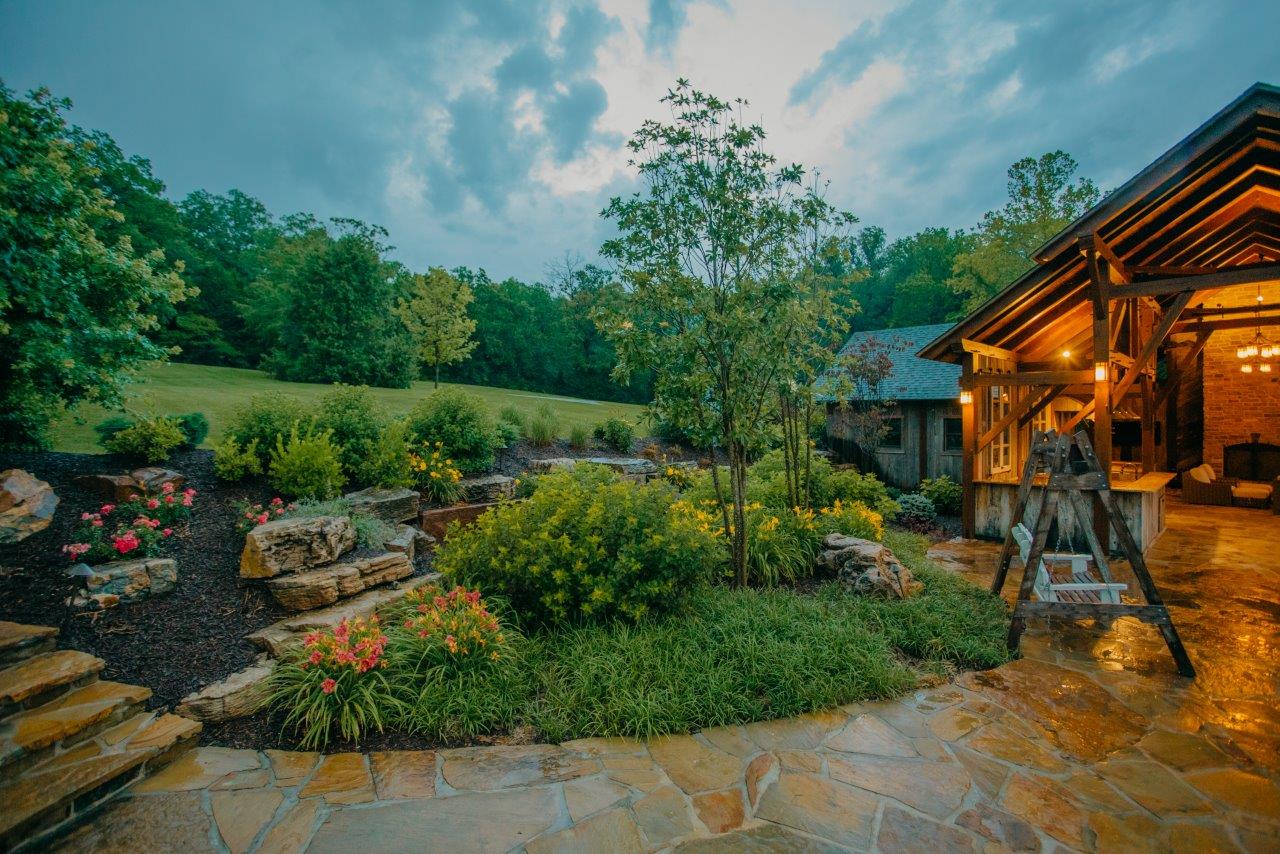 Fertilizing & Spraying: Plants are living beings and continually growing, so they need to have treatments applied when the time is right.  Fertilizer in the spring and fall is very beneficial to their health. Fertilizer will help a plant thrive, rather than just survive. There are a variety of plant specific, as well as general fertilizers, that will help keep your plants healthy and happy.  The most common spraying practices include applying for pests and deer damage protection. When deer, Japanese beetles, bagworms, etc. are at their peak, they can reduce the life of your landscape quickly. But remember, timing is everything. You don't want to put unnecessary chemicals down or waste your time and money.
Pruning: We recommend pruning in the spring, early summer and fall. If done in the cold of winter or heat of summer, the tender leaves revealed from pruning can burn in the harsh weather. When a plant is pruned depends on the variety. For example, we do an early summer prune because some select plants need to be trimmed after they bloom in the spring, and before they set their blooms in the fall. This ensures none of the buds set for next year will be cut off.
Weeding: Weeds can get out of hand very quickly, so weekly weeding is necessary. Not only are they unsightly, but weeds will steal away soil nutrients, water and sunlight resulting in unhealthy plants. To help manage weeds, spring mulching will help your weeds and applying pre-emergent will reduce the number of weeds competing with your plants.
In landscape maintenance timing is key when it comes to fertilization, spraying, pruning, and weeding, however, a proper maintenance routine will vary from landscape to landscape. Maintenance plans are fully customizable for your individual yard's needs in order to have the best results in protecting your investment into your outdoor space.