Custom Container Design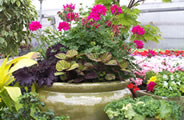 Container gardening is an easy way to add splashes of color to your outdoor living space or make for a great gift that can be changed out each season, and enjoyed for years to come. Bring your containers to Superior Garden Center, or find a new and unique one at the store, and allow us to specially design a container for you. Custom container planting pricing is based on the plants used, plus an additional 30% fee for pro-mix and labor.
Delivery
We are happy to deliver product within a twenty mile radius of Midway. Common deliveries include mulch, rock, trees and shrubs and are left in the driveway. 
Give us a call or order online and we'll get you the materials you need to spruce up your yard!
Delivery fees are as follows:
Zone 1: $25/ round trip (within 5 miles of SGC)
Zone 2: $45/ round trip (within 10 miles of SGC)
Zone 3: $50/ round trip (within 20 miles of SGC)
Please keep in mind that bulk products will mix, therefore if you are purchasing multiple products, multiple deliveries may be needed. Weight is also a consideration with bulk products and only certain amounts of each product can be loaded at a time, so additional delivery fees may apply. Call (573) 442-9499 for more details.
Tree & Shrubs Plantings
All of the trees and shrubs purchased at Superior Garden Center can be planted for you. The planting fee is 60% of the regular price of the plant with a $50.00 minimum. The fee includes:
Contacting 1-800-DIG-RITE


Delivery to the site
Placement on property
Digging of hole
Amending of soil with topsoil
Placement of plants
Mulching with wood fiber
Staking, if necessary
1-year warranty including re-planting (some restrictions apply)
To protect the tree and our crews, trees cannot be planted in the same spot where a previous, established tree had been. Unless the stump is ground out AND roots are dug out surrounding spot prior to planting, the new tree must be planted 10 feet from the previous spot.
"
"
Working with Rost Landscaping was a solid experience. A creative professionals, they took our thoughts and ideas and melted them into their design. Very open to discussions, the Rost Landscaping Team made our vision possible making sure our budget was attained, timelines met and expectations exceeded. The final product will be a showpiece for our members and guests of the Columbia Country Club for years to come.

Columbia Country Club

"We are BEYOND thrilled about the landscaping! It has just made our house look like a home. LOVE everything! It's gorgeous! can't say enough great things about you and Rost. You listened, you communicated, you delivered! It's incredible!"

The landscape at BHC looks wonderful. I received and overheard many compliments on the site work last night at the opening and I let everyone know that the high quality appearance came from your company. You used good quality matched material, detailed the plant and boulder placement well and installed everything per plan with good workmanship and attention to detail. I do not think that any other Mid-Missouri landscape company could have accomplished this project with such detail and quality. The Hospital staff and trustees were very happy with the end product. Thanks for everything that you did to make it a success.

Parsons Brinckerhoff

I just wanted to say how beautiful the grounds are here at the IBM building. The flowers and plants and the weekly trimming has made the center a thing of beauty. I am really enjoying it. Please tip my hat and thank the groundskeeping crew for the great job they are doing here. We notice it and it makes a difference for our employees and anyone who drives by the center. Great Job!

Cross Competency Services | IBM | GTS Services Delivery

I am pleased to recommend Rost, Inc. for your consideration as a candidate for landscape planning and design services. With their range of professional experience and resources, I am confident they will be responsive to your needs and provide excellent value to your project. Rost, Inc. was first selected as the library's landscaping firm in response to public request for proposals for landscaping the expanded library site and two parking lots. In all of their work for the library, Rost, Inc. has been most professional in their management of our projects and their communications with the library board of the trustees, other contractors and consultants. They consistently meet project schedules, deadlines, and budgets. They make themselves available on a timely basis to provide additional information and present options as needed, and cheerfully accommodate the requests and schedules of the client, frequently with very short notice. The quality of their presentations and work has always been excellent. You can count of Rost, Inc. to successfully complete your project and you'll be proud of the results.

Daniel Boone Regional Library

Cottage Builders hired Rost Landscaping to perform all landscaping and irrigation work, to include the construction of several retaining walls and drainage systems. We were extremely pleased with the quality of work performed by Rost, Inc., their ability to work on a crowded site with numerous other subcontractors, and their ability to work within a compressed time schedule. The crews that worked on our job performed the work in an unusually professional and dedicated manner. They were able to quickly and rather easily adapt to several changes made in late stages of the job. Based on my experience, I would recommend Rost Landscaping without hesitation to anyone in need of a commercial landscape/irrigation contractor in the Missouri area. As I have indicated, they were and remain to be among the top subcontractors that I and many others within our organization have worked with.

Capstone Development Corp.