We carry 3 different types of Dogwood Trees: Native Dogwood (Cornus florida), Chinese Dogwood (Cornus kousa), and Kousa Hybrids. Many are familiar with common native dogwood cultivars such as the Cherokee Princess, Cloud Nine, Cherokee Brave, and Cherokee Chief. But with a little bit of clarification on the kousa and kousa hybrids you can check out some of these great trees that we believe are missed opportunities when shopping for dogwoods.
In general, kousa and kousa hybrids can take a bit more sun/heat than native dogwoods. They are also blight and mildew resistant.  Below is a list of some varieties we hope to stock in 2022.
Kousa Cultivars: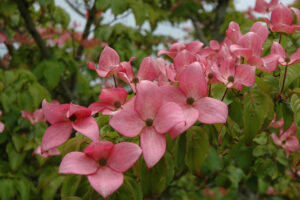 Scarlet Fire – New, vigorous, a bright pink heavy bloomer.  Red fall color with pink/red fruit.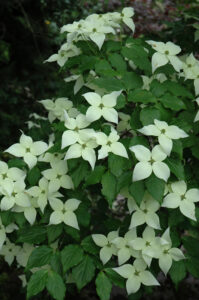 Snow Tower – Upright form and said to be fastest and most vigorous blooming kousa cultivar. We were very impressed by it in the field and think it will stunning in landscapes.
Blue Shadow – Blue/green foliage and a heavy bloomer, but most noted for its structure. Horizontal/uneven branching displays blooms flat as a scaffolding effect. Said to be most sun and heat tolerant. They are rare in this area and we will only be getting a few in stock.
Kousa Hybrid Dogwood Trees:
Developed to replace some of the disease problems in native dogwood trees. They are also borer resistant.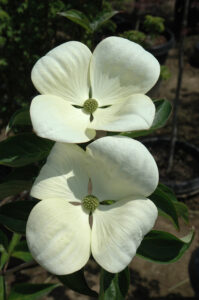 Ruth Ellen – Low branched. Heavy, late, white bloomer. Wider than it is tall.
Venus – Late bloomer with the largest blooms we've seen on a dogwood. There is one in The Highlands that could stop traffic.
Celestial – Much like Ruth Ellen, but smaller and masses of white flowers.
Rosy Teacups – This is a variety we are excited to try to see how it does in our climate. It comes highly recommended due to it's dense, round, almost dwarf habit with pink flowers the size of your hand. It's fall color is said to be a spectacular cherry red.
We are super excited to have some of these dogwood tree varieties in stock this year so check our availability to watch for when they arrive.