In several landscape projects we work on, we come across or design in bed spaces that are too big to fill out with shrubs, but not quite big enough to add a typical ornamental or shade tree. Many times these areas are located near the house where larger trees will not fit the space. These area areas where we like to use a dwarf variety of tree that can help add height and interest to the space without concern of outgrowing the area. The trees mentioned below are just a few of the options available that you should keep in mind.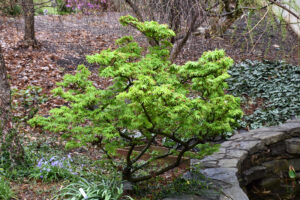 Japanese Maple 'Mikawa Yatsubusa' – This variety of Japanese Maple only grows to a height of 4-6 feet tall with a similar spread. This is an upright Maple with green leaves that transition to an orange / red color in the fall. This tree is best suited for area that get morning sun and afternoon shade. The 'Mikawa Yatsubusa' is dwarf tree that is better used as a specimen tree where it can stand out from the rest of the plantings.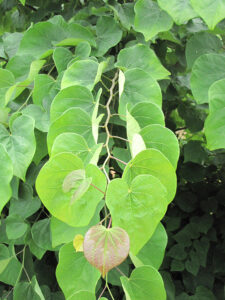 Redbud 'Little Woody' – This Redbud is an excellent dwarf tree to add to your landscape if you are looking for additional spring color. 'Little Woody' Redbud can get up to 10-12 feet tall and 8-10 feet wide. It offers great early Spring color with the purple blooms as well as interesting yellow foliage in the fall. The vase shaped growth of this tree can add fullness to the landscape along with shade and privacy to any lower floor window or door if desired.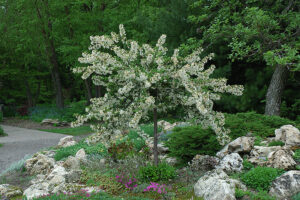 Crabapple 'Tina' – The 'Tina' Crabapple has been a favorite of mine for a couple of years. It's short growth habit allows us to use it more places that a typical Crabapple. This dwarf tree only has mature height of 6 feet, but has a wider spread near 10 feet. This makes it an excellent choice to use near the house where there is a large space to fill, but will not grow up into the roof and gutters. The white and pink blooms in the spring and the fruit in the fall give this tree color through most of the year. This tree can be used a singular specimen or in a cluster to add a mass of color.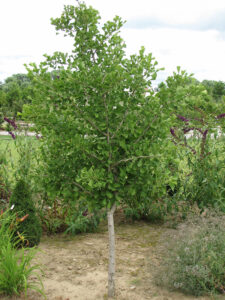 Ginkgo 'Tschi Tschi' or "Chi Chi'– Ginkgo trees are known for having a unique fan-like leaf that no other plant replicates. 'Tschi Tschi' is a dwarf tree that still has that same feature, but in a compact form. This variety of Ginkgo could be considered a dwarf tree or a shrub. It has a multistem growth habit that is compact and only grows to 5-6 feet tall and wide. The yellow leaves in the fall make this an excellent choices to achieve late year color. This Ginkgo stands out when it is planted as a specimen in the landscape.
The next time you have a challenging area and are not sure what to plant, I suggest giving one of these trees a try. You can find out more at Superior Garden Center.