Multi-stem trees are a common choice for landscape designers, and over the recent years, they have increased in popularity and availability for all gardeners. A multi-stem tree is a tree that has two or more stems or trunks growing from one root. Therefore, they will have a broader canopy and more foliage, but you can still see through the open-structured base. They are a suitable choice for a naturalistic garden but also fit perfectly in a more contemporary one. Features such as size, blooms, and foliage color are always top of mind but the sculptural characteristics you can find in a multi-stem tree make it something we'd highly recommend that you consider adding to your landscape. Below, I am sharing a handful of my favorite multi-stem trees to utilize in a landscape design.
Witch Hazel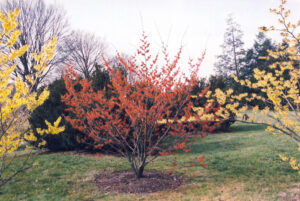 : This small multi-stem tree has yellow to orange blooms and are very low maintenance. There are even some Missouri-native varieties. The unique thing about them is that they bloom in winter, and they make for a beautiful show when they are blooming with snow on the ground.  So often people when people think of winter interest plantings, they think of evergreens, so the addition of the multi-stem structure and winter blooms makes this a fantastic choice.
Crabapple 'Royal Raindrops'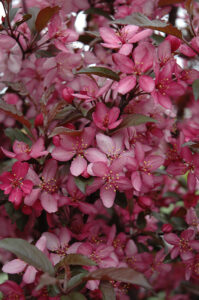 : These trees provide 3 seasons of interest boasting a bright pink bloom in the spring, showy red fruit in fall, and my favorite feature—deep purple foliage throughout the year. Royal Raindrops will come in both single or multi-stem but I love the structure of the multi-stem form.
Seven-Son Flower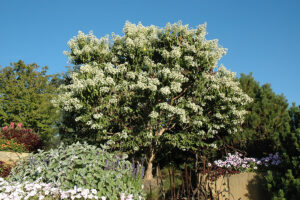 : These multi-stem trees are prized by plant lovers. They have a unique exfoliating red bark that provides significant winter interest and fragrant white blooms. Another perk of the Seven-Son Flower is that, compared to so many spring-blooming trees, it's fragrant white flowers will bloom in Summer. But even more showy than the blooms, are the bright pinkish red bracts (fruit) that reveal themselves in fall once it is done flowering.
Magnolia 'Sweetbay'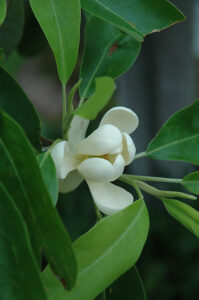 : Growing about as tall as they do wide, creating a beautiful canopy, the Sweetbay Magnolia also has a unique branching structure.  By removing the lower branches of these trees over time, you can shape them to really highlight their multi-stem structure. In addition, to their ornamental structure, you can look forward to creamy white, cup-shaped flowers in late spring and a shiny, green foliage.
Fringetree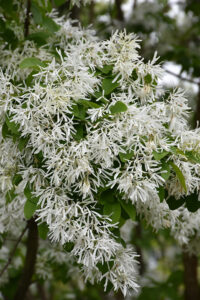 : The Fringtree is a perfect option for a specimen plant.  The small size of this tree makes it a great option to be planted in any area where a smaller tree is needed such as near a patio, below power lines, etc.   The blooms are very distinctive with their strap shaped petals that give the blooms a fluffy, fringe-like appearance in addition to a wonderful fragrance.
Be sure to check out these and other varieties of multi-stem trees for your yard. We're confident that you'll love the distinctive look, plus you get more bang for your buck with instant structure and a broad canopy.
Shopping on your own? Visit Superior Garden Center
Need some design help? Contact a Designer