By: Nate Anderson, Landscape Designer
As a designer for Rost Landscaping, I get the added benefit of working closely with Superior Garden Center who stocks an enormous selection of plant materials.  Our retail center is always looking to stay ahead of the curve by providing the newest and best performing landscape plants on the market.  Every year breeders are trying new things to get plants to do things like bloom longer, be more compact, grow bigger flowers, and so on.   Our team stays educated on these trends so that we can offer them to our customers.  Here are a few new plants coming to Superior Garden Center in 2023:
Thunderbolt Honeysuckle

'Thunderbolt' Box Honeysuckle – Don't let the name scare you away on this one. Unlike the invasive honeysuckle that plagues so many homeowners, this ornamental shrub is low maintenance and non-invasive.  It has a dense structure and feature a beautiful chartreuse foliage.  It has a naturally cascading habit, but can be trimmed and shaped if desired.  This shrub is semi-evergreen, and can be used as a boxwood alternative.  Adding a variety of not just bloom colors but also foliage colors is a great way to make your landscape stand out.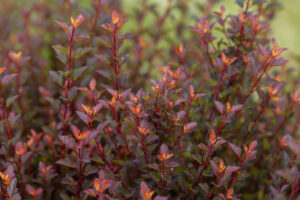 'Lucky Devil' and 'Spicy Devil' Ninebark – These upright compact shrubs boast some striking foliage colors. 'Lucky Devil' offers a bright yellow leaf color, while 'Spicy Devil' has a deep reddish-purple foliage.  Both varieties bloom white in spring, and prefer full sun.  These shrubs only get 3-4' tall and wide making them great foundation plants.
Flowerfesta Lilac

'Flowerfesta' Lilac – This lilac comes in blooms of white, pink, and purple. Coming in at 3-5' tall and wide, this lilac has a more compact growth habit than many other varieties.  This shrub offers a perfect way to add some spring color to your landscape.  The flowers attract butterflies and are fragrant.  There are also tree form versions that would work great in an area that needs some height or a focal point.
'Prairie Dog' Switch Grass – This grass is prized for its shorter upright growth and its sturdier stems that are less prone to flopping over. It has a blueish green color to the foliage and a subtle rosy color bloom.  They are easy to grow plants with low water requirements.  Ornamental grasses are a great way to add texture and variety to your landscape.
Stella Daylily

Mango, Lemon, and Apricot 'Stella d Oro' Daylily – The tried-and-true 'Stella d Oro' daylily is now available in three new colors! This herbaceous perennial is extremely hardy and low maintenance.  Stella daylilies are more compact than other varieties and they are rebloomers meaning they can bloom multiple times in one growing season.  They are great when used in masses to add a pop of color to your garden.
Come check out all the newest varieties of plants that Superior Garden Center will offer this year, as well as your tried and true favorites.