Outdoor living spaces are a growing trend in landscape design. They enhance your space's livability, increase your ability to host or take the edge off, and they add value to your home. Whether your outdoor living space is centered around a pool, fireplace, patio, or recreation area, all that leisure can really work up an appetite. Outdoor kitchens are a fantastic complimentary piece to any outdoor living area but getting the perfect setup for you may require some expertise.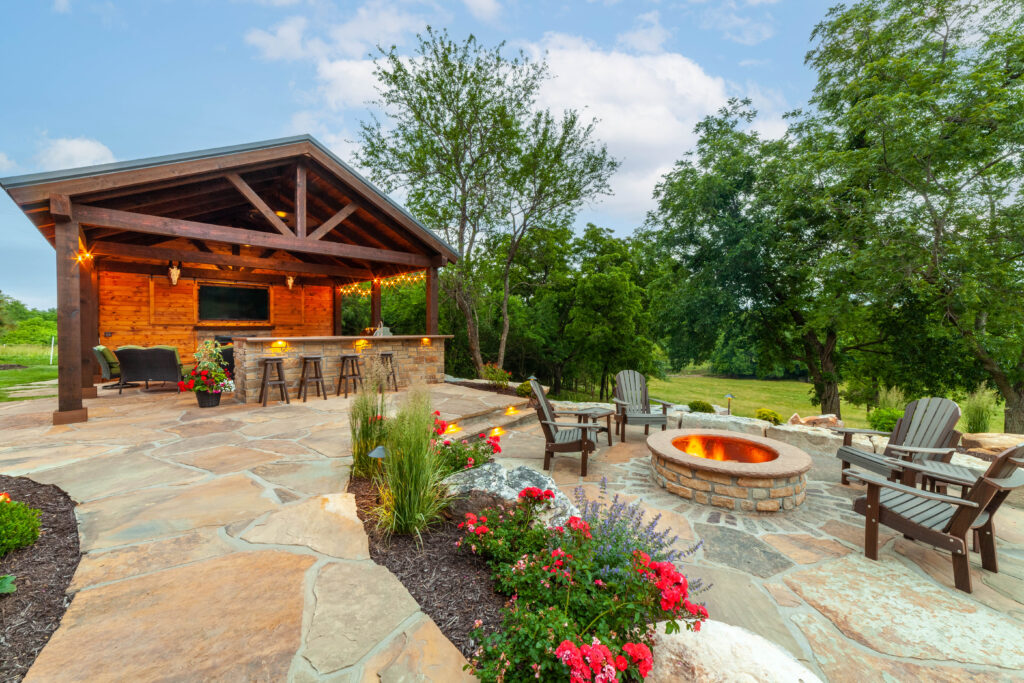 With each new outdoor kitchen, we first want to assess the space and your needs. For the minimalist in your life, a simple grill station and some prep area can be sufficient. A quality cooking station can be built to last and look the part by building the grill into a masonry cabinet and adding extra countertop space. Natural stone or concrete blocks, concrete panels, or steel framing with a stone veneer can be utilized to create a wide variety of aesthetics and create a functionally beautiful focal point for your back yard. From there, there are endless possibilities of features that can be added.
With each outdoor kitchen, we try to include bar-height seating connected to the counters of an island makes the kitchen space a communal space. We'll design the prep and cook areas close to the seating so you can watch the grill and still be a part of the party. Add a sink and garbage disposal and all the cooking and cleaning can take place without taking a step. I like to build trash receptacles into the cabinets for easy clean up and to eliminate any worry about weather or pests creating a mess. Large pellet ice makers are an under the radar accessory that can be built into cabinetry to keep the refreshments flowing while a mini-fridge and freezer keeps you stocked with the essentials. Some more niche accessories can go a long way in adding function. For example, we love a wood fire pizza oven and having cookouts where everyone can make their own personal pizza in just a few minutes. It's something fast, easy, and a fun unique experience for all your guests.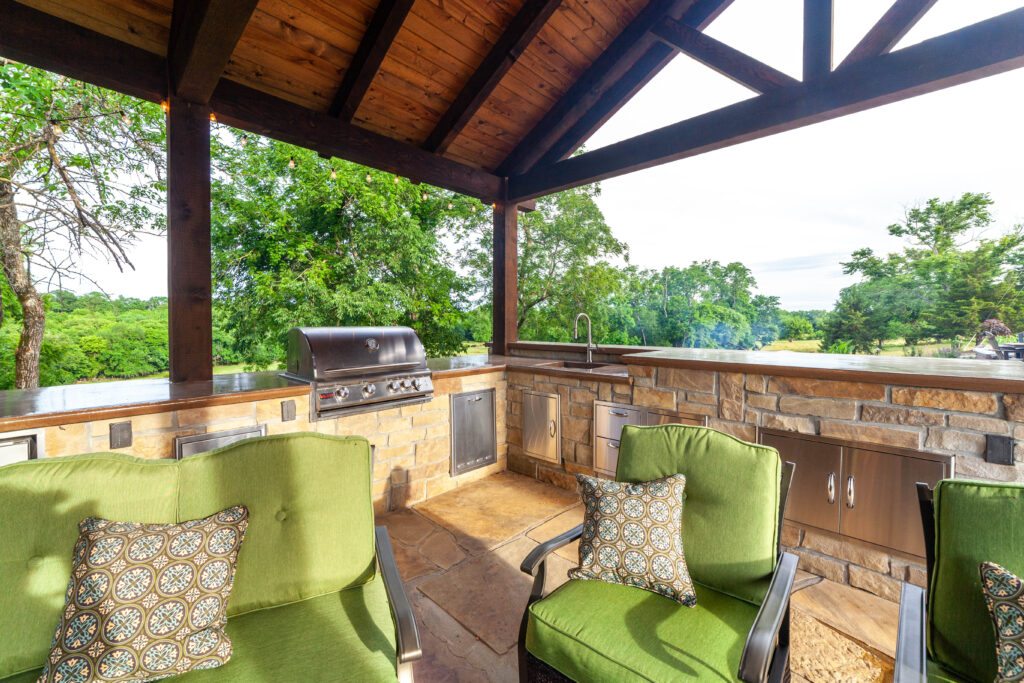 Outdoor kitchens are not just a functional space, they are catalysts for social gatherings. Whether you're hosting friends and family or cooking dinner for the family, the cook(s) won't want to miss out on the fun. By adding amenities to your outdoor kitchens, you can create a striking accent piece to your yard that enhances all your social and family gatherings and makes your next hangout spot a one-stop shop. Start the conversation with one of our designers, today, and see if adding an outdoor kitchen is the next step to take to create your ideal outdoor living space.