Trees & Shrubs

With one of the largest selections of trees and shrubs hardy to Missouri, we specialize in large sizes, hard to find varieties and rare specimens. Many of Superior Garden Center's trees are locally grown at Salt Creek Tree Farms, a division of Rost, Inc., where we are able to control quality and keep shipping costs down. We also work with a number of nurseries throughout the United States to maintain a constant supply of unique and fresh material.
Perennials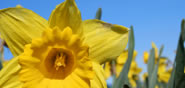 By growing many of our own perennials we are able to provide one of the largest selections of perennials in Mid-Missouri.  Growing our own material allows us to ensure excellent quality and unique varieties.  Since we are all passionate about plants, it is hard to pass up anything unusual so we are frequently the first to trial new specimens in our own yards.
Water Gardening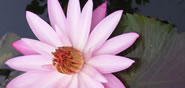 Water gardens can add a special touch to you landscape by creating a focal point and ambience. Let us help supply any pumps, biofalls, fish food, pond friendly chemicals and a wide selection of locally grown annual and perennial water plants you might need to keep your water feature healthy and balanced. If you are looking to brush up on your water gardening knowledge, or get started, join us for any of the One-Hour Gardener sessions on water gardening. Check the seasonal class schedule at Superior or on our website for dates and times.
Pottery

Nothing adds that final touch to your front porch, deck or patio like a colorful piece of pottery. With a unique selection that is hand picked from several vendors, we're sure there's something to fit your style and needs.
Statuary, Benches & Fountains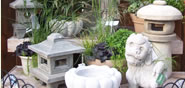 Looking for something unique to add to your garden? How about a bench for the quiet garden retreat? We carry a variety of quality garden statues, benches, fountains and other garden accents to bring your style and creativity into the garden. Visit some of the links on the Resources page of our website to view a few of the products we carry at Superior Garden Center.
Custom Container Design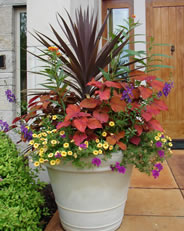 Container gardening is an easy way to add splashes of color to your outdoor living space. Bring your containers to Superior Garden Center, or find a new and unique one at the store, and allow us to specially design a container for you. If you are unable to bring your containers in, or are running short on time, give us a call and we'll pick up and deliver your custom containers for a nominal fee.